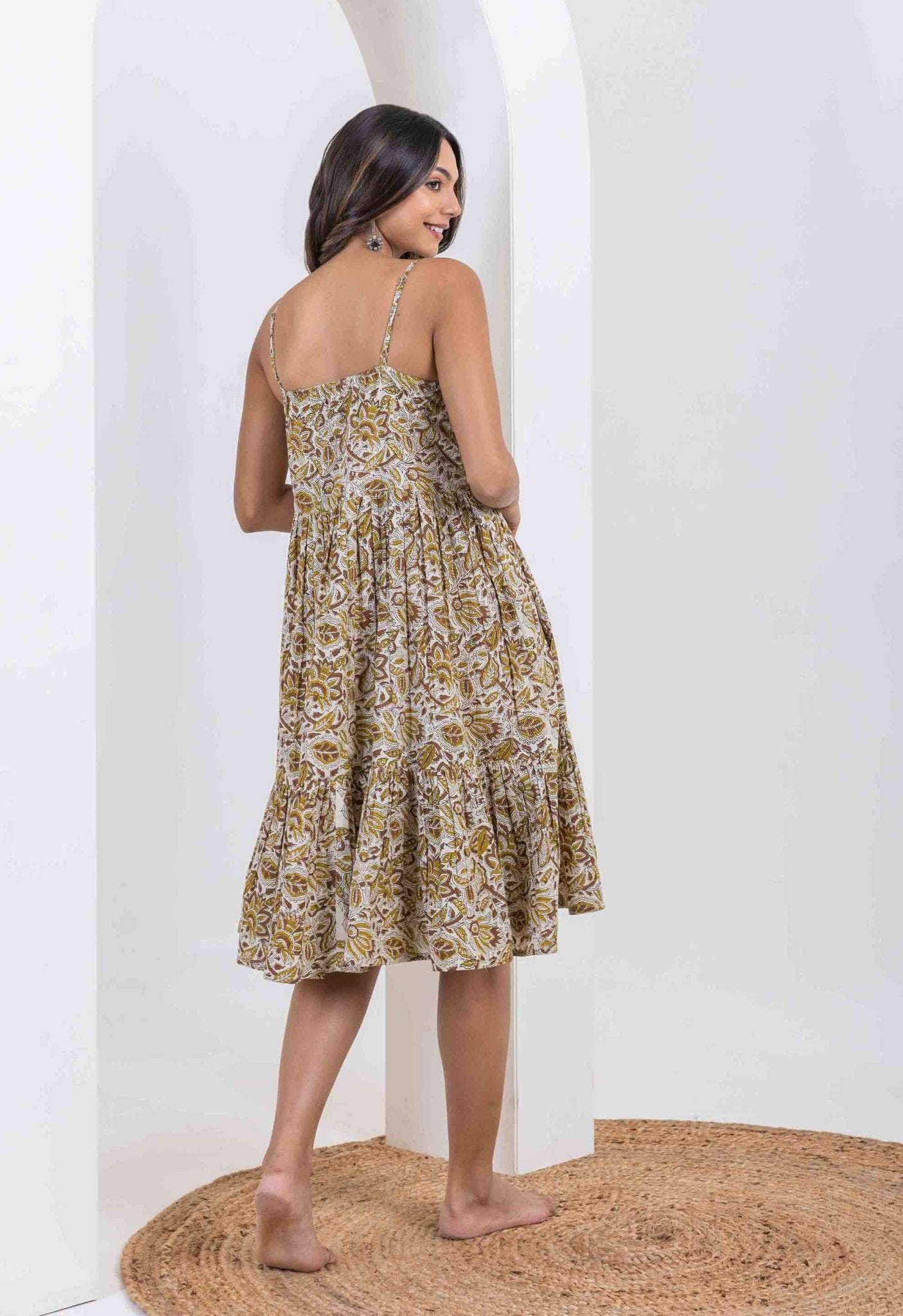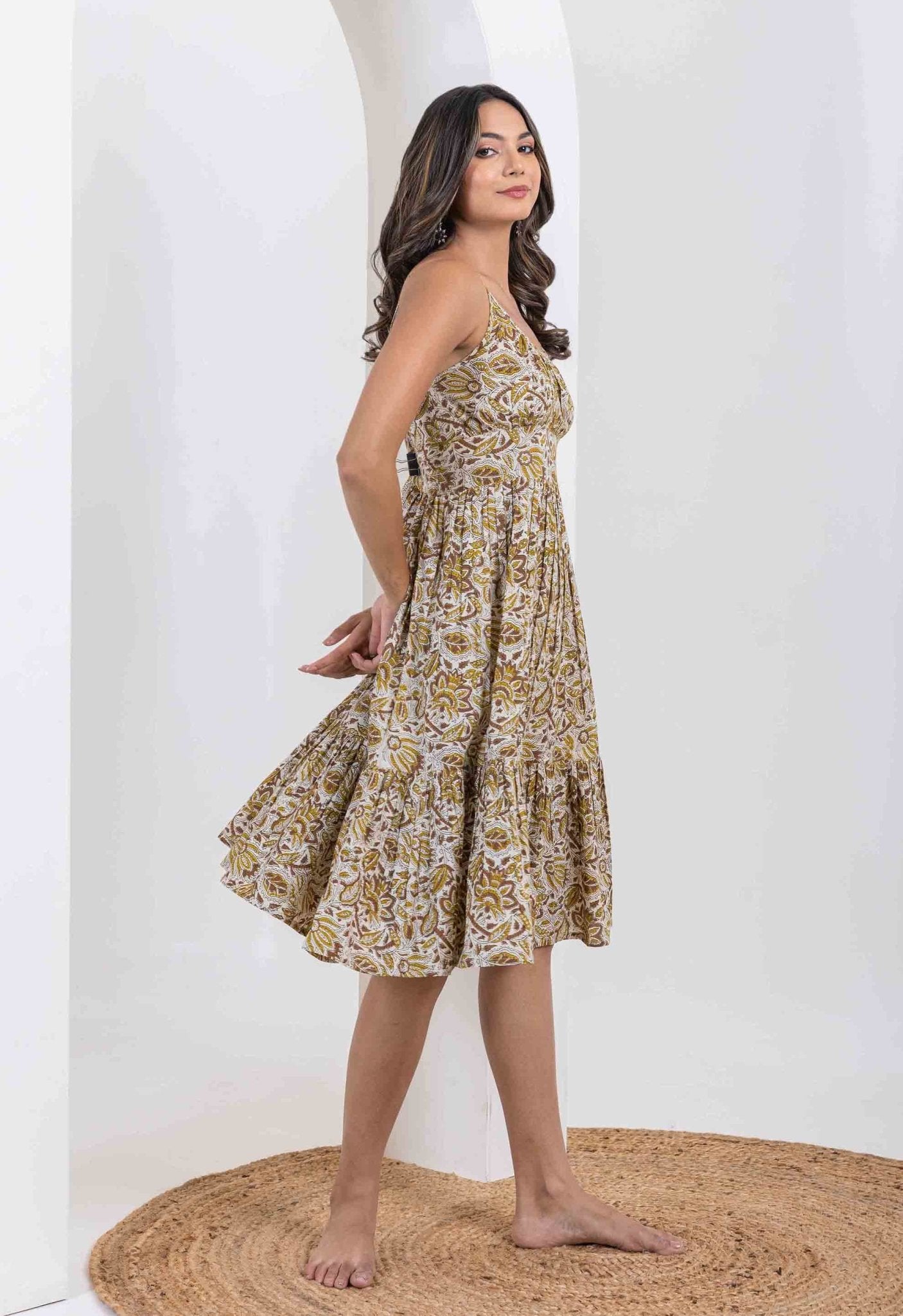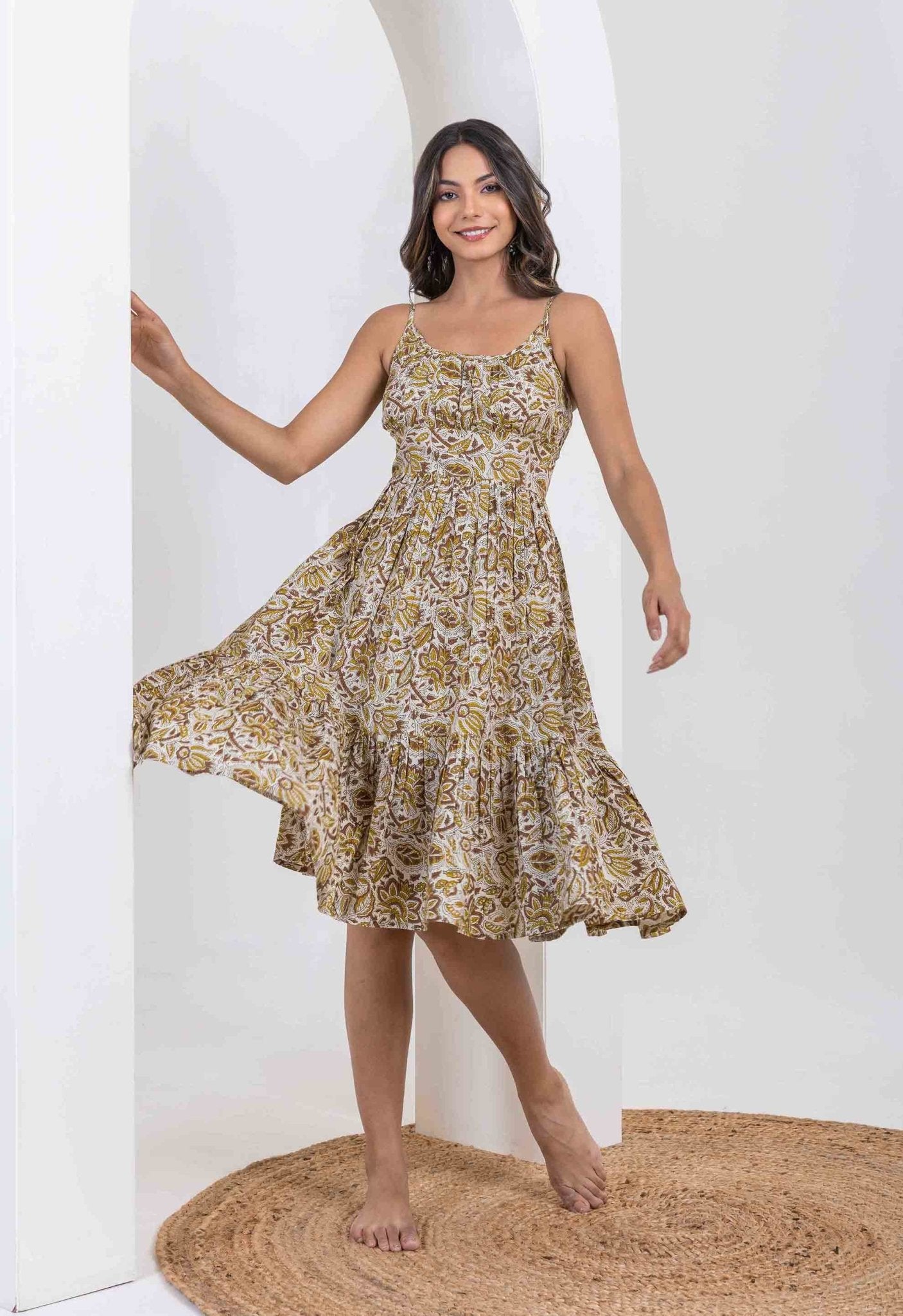 Bagru Hand Block Printed Strappy Dress
Introducing our enchanting Bagru Hand Block Printed Cotton Strappy Tiered Short Dress, a delightful fusion of comfort, style, and sustainability. Crafted on high-quality cotton fabric in a soothing beige tone, this dress boasts the exquisite artistry of Bagru hand block printing, featuring captivating prints in mustard and brown hues created using natural dyes.
Embrace the softness and breathability of cotton as you adorn this beautiful short dress. Perfect for both relaxed gatherings and stylish outings, this Bagru Hand Block Printed Dress is bound to elevate your fashion statement with its authentic Indian charm and eco-conscious approach.
The shipping timeline for this collection is  7-14 working days since we work on make to order basis.
Fabric: Cotton
Care Instructions: 1. Gentle Wash/ Dry Clean, 2. Dry in Shade
Measurements : 


Top Length : 36" 
The model (height 5'7") is wearing a size Small
RETURN & EXCHANGE POLICY (Only for Domestic Orders)

 Returns and exchanges will be accepted only within 7 days of delivery date.
 For returns, the amount will be refunded in form of store credit with validity of 6 months.
 In case of exchange, customer can select the different size or product whereas the difference for the higher product amount will be paid from the customer and the difference with the lower product amount will be credited in the form of store credit.
 We do not accept Return or Exchange for the products once sold in any sale and purchased under any offer on the website.

 Eligibility for Return & Exchange
Please ensure the returned product is unused, not damaged and has the original packaging, price tag, original invoice and label.

The product needs to be sent back to our source address for the return or exchange.

After receiving the product it will go through the QC process.

It takes 1-2 working days for the process after receiving the product to dispatch the new product or initiate store credit once it passes the process.
Shipping -

1. It takes 1-2 working days to dispatch the order and New articles under fresh arrivals takes 4-5 days to dispatch.

2. COD orders will only dispatch after the confirmation from the customer.

3. It usually takes 4-6 working days (Domestic) and 7-8 (International) working days to deliver the order.

4. Once your order has been dispatched, you will receive tracking information via email or phone from our delivery partner.

Important : The customs and duties for international orders will be borne by customer.

5. In exceptional cases, customers gets informed by our support team or you can reach out to us via email support @taractara.com